Joint Prostheses
This category includes to products, made from artificial materials, that replace natural joints and restore functions severely damaged or lost due to disease or injury. While leveraging its sales channel to orthopedic surgeons built over the years, Japan MDM has been trying to complete portfolio to meet their needs. Joint prostheses comprise the strategic product that Japan MDM seeks to gain a firmer foothold with in the orthopedic market. Having grown steadily, joint prostheses now account for nearly 40% of Japan MDM's net sales. In 1994, Japan MDM confirmed its move into the field of joint prostheses with the acquisition of Ortho Development Corporation, a joint prosthesis manufacture in Salt Lake City, Utah. After establishing a development and manufacturing framework, Japan MDM launched Ortho Development Corporation Bipolar System, hip prosthesis in Japan in 1996. This milestone was followed by launch of the Balanced Knee System for knee prosthesis in 2001. In 2002, Ortho Development Corporation began the full-scale sale of joint prostheses in the U.S., a market with a scale that dwarfs that of Japan.
For joint replacements today, there is greater demand for different product sizes and variations to better match individual patient anatomy. Surgeons too have grown more explicit in what they expect from these products. Japan MDM, with the development and manufacturing framework firmly in place, has the powerful competitive edge to meet these challenges rapidly and in-depth, and to provide stable supply of joint prostheses over the long term.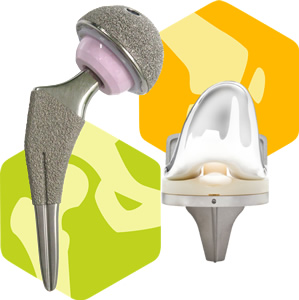 Hip prosthesis:Hip Joint Products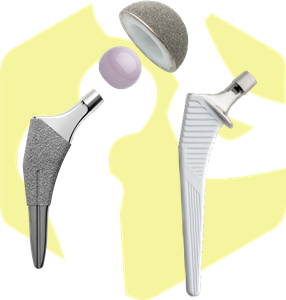 Replaces the femoral head and pelvic side with metal, ceramic, and polyethylene, depending on diseases such as hip osteoarthritis, rheumatoid arthritis, femoral head necrosis, and femoral neck fracture, and restores function by removing pain.
From 2014 onwards, developments in consideration of changes in surgical procedures and the Japanese skeleton have progressed, and the "Ovation Tribute Hipstem" and "Alpine Hipstem" have been launched.In 2018, the "Legend with a new surface coating The Acetabular Cup" is launching the Entrada Hip Stem in 2019.
Artificial knee joint:Knee Joint Products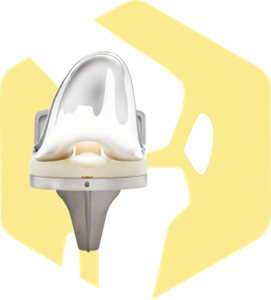 In response to osteoarthritis, rheumatoid arthritis, etc., the femur side and tibia side and patella in the knee joint are replaced with metal and polyethylene, and the function is restored by removing pain.
From 2015, the successor model "BKS Trimax" that follows the track record of the "Balanced Knee System" has been launched, and the lineup has been gradually expanded. We are also improving peripheral equipment to check and adjust the balance of ligament tissue around the knee joint during surgery.
Spinal Fixation Devices
Spinal fractures, osteoporosis and other diseases can cause spinal instability, which may lead to severe pain and other neurological symptoms. One treatment option is to fix this spinal instability directly through corrective surgery. Spinal fixation devices are essential for this procedure.
In 2012, we began selling the Vusion OS Interbody Cage, a product manufactured by our U.S. subsidiary ODEV, and in 2014, we entered the major spinal fusion device market by adding the Pagoda Spinal System and IBIS Spinal System to our product lineup, gradually strengthening our product lineup. In 2014, we entered the major spinal fusion device market by adding the Pagoda Spinal System and IBIS Spinal System to our lineup.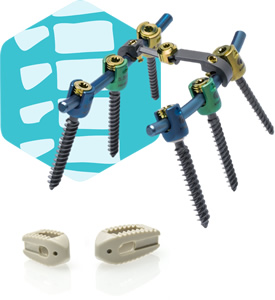 Spinal fixation device:Spine Products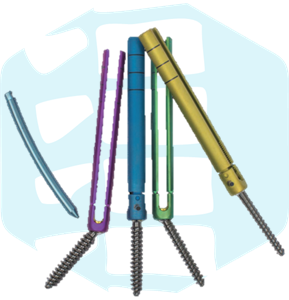 This system fixes the spine by connecting a screw inserted into the vertebral body of the spine with a rod when performing surgery in a case that presents with neurological symptoms such as spinal fractures, hernia, and slippage.
Up to now, we have been adding lineups according to the changes in surgical procedures. In 2018, we started sales of systems used for vertebroplasty through a new business alliance, and in 2019 we will introduce implants for cervical laminoplasty to expand the scope of application through the product lineup.
Trauma Devices
This category includes to nails, screws, plates and other products surgically implanted in the fracture site. These products are used in surgery to treat femoral neck fractures, most often suffered by the elderly, and other fractures from auto-related and other accidents.
Our trauma devices are used in medical institutions nationwide. We provide various materials satisfying the needs of virtually any patients and applicable to any emergency surgery. We also pioneered the use of titanium alloy devices, which are light, strong and biocompatible, in the field of orthopedics on the Japanese market.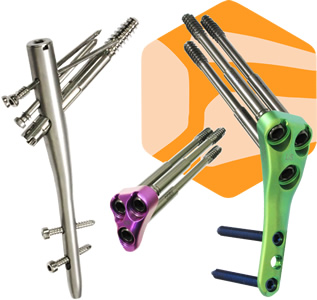 Osteosynthesis material:Trauma Products(screw & plate)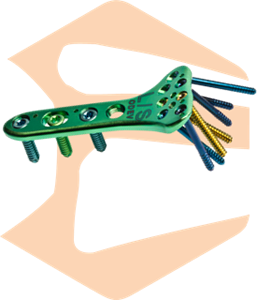 This method promotes bone fusion by placing a plate to bridge the fracture and inserting screws into each of the holes in the plate to fix the fracture.
The "MODE Series" launched in 2012 has been designed based on Japanese CT data. In particular, the frequency of fractures is high, and the bone shape is focused on the lineup of various bone ends (near joints). A locking plate that locks the plate and screw is adopted to improve the stability of the fractured part after fixation.
Osteosynthesis material:Trauma Products(intramedullary nail)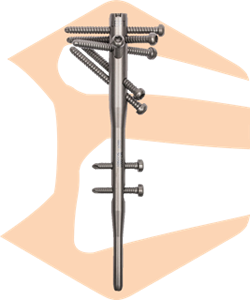 It is a material (implant) that is inserted into the medullary cavity of the long bone (long bone) of the broken limb (arm / foot) to fix the bone.
Intramedullary nails can firmly fix the movement of the broken bone, such as rotation or shortening, by inserting side stop screws at both ends across the fracture through the bone marrow.
In addition, it is possible to fix a relatively small wound on the insertion part of the intramedullary nail and the side stop screw in normal surgery, and it is an advantageous method for bone fusion because the fractured part is not expanded. Widely spread as.
Bone Graft Substitutes / Artificial Bones
Artificial bones are used to fill gaps in bone defects caused by bone fractures or bone tumors.
The demand for artificial bones is expected to increase further with the aging of the population and the higher incidence of fractures associated with the rise in the number of osteoporotic patients.
Our artificial bone products use β-TCP, a material that is replaced by the patient's bone over time, and we have a variety of shapes available for Joint, Spine, and Trauma surgeries.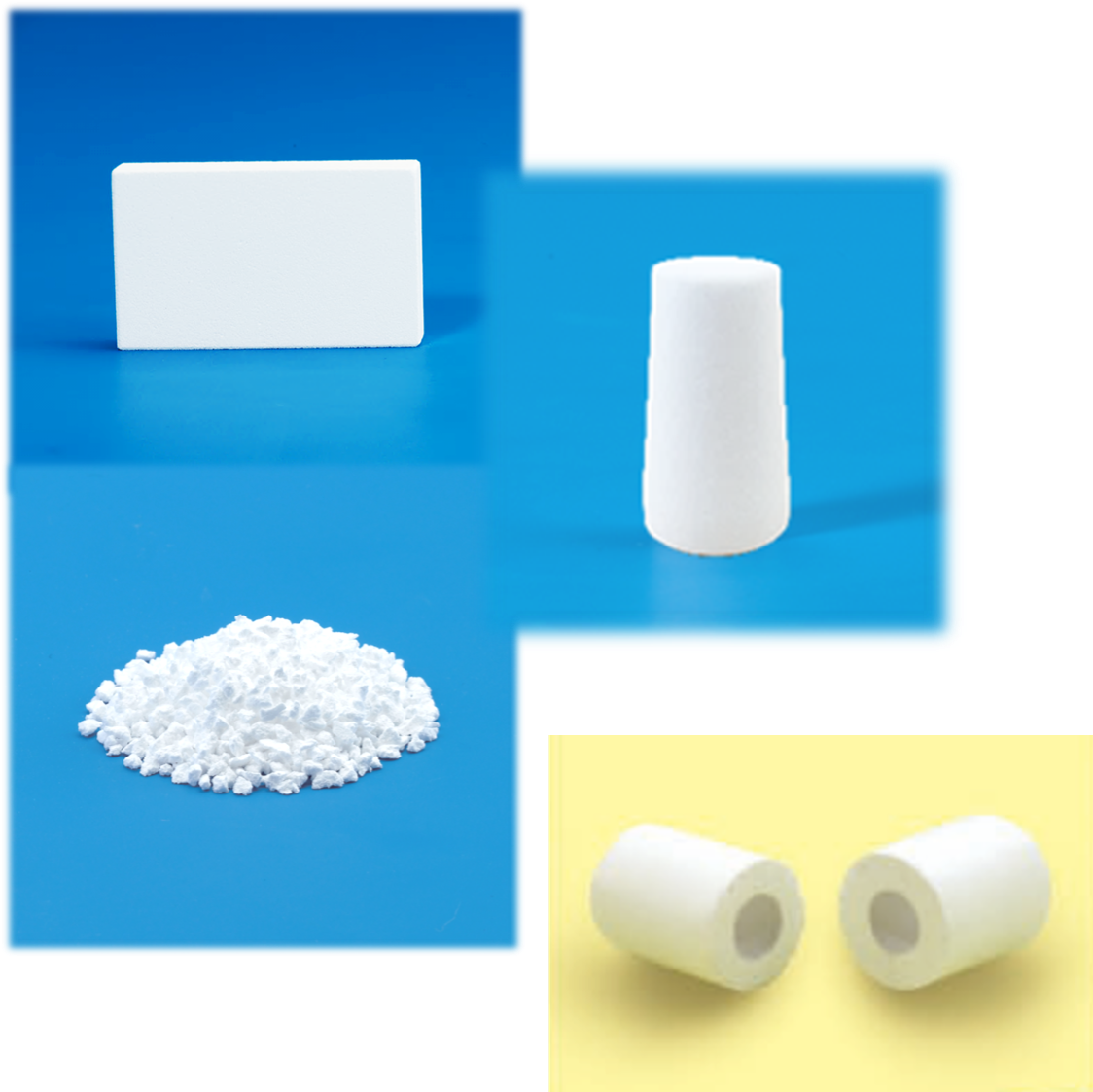 Artificial Bones (Sintered)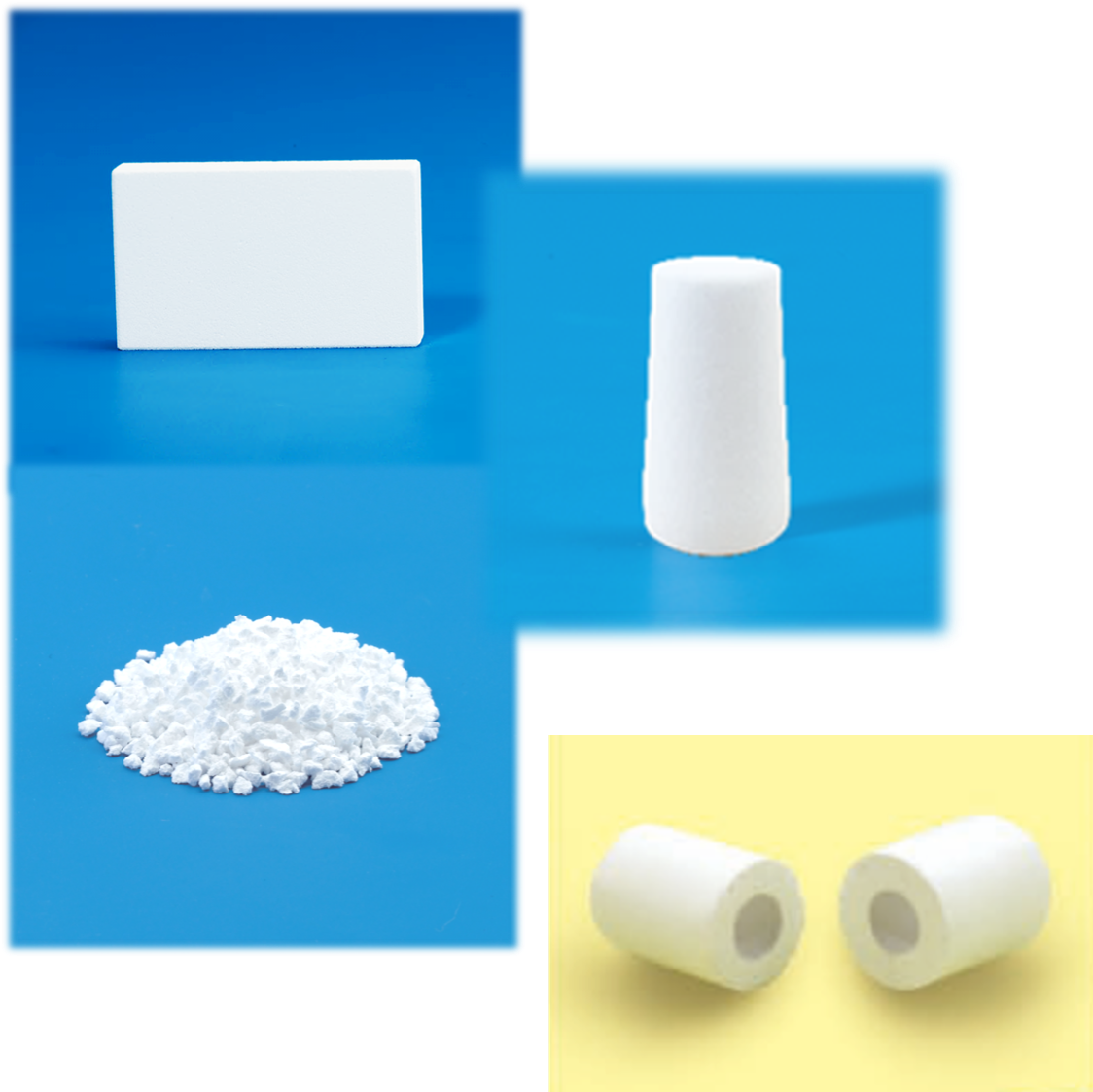 Sintered (solid) materials can be classified into porous or dense type, depending on the manufacturing method, and each has a different level of porosity and mechanical strength. We have a lineup of porous materials in the form of granule, block, and more.

R&D Framework
Driven by exponentially expanding needs in its mainstay orthopedics market, Japan MDM is extending its reach into the field of artificial joint replacements. The acquisition of a leading overseas manufacturer has enabled Japan MDM to quickly build a system for in-house development and manufacturing.
Ortho Development Corporation is responsible for development task in orthopedics, while development in medical devices is handled mainly by Japan MDM itself.
Japan MDM will retain its long-term outlook going forward, bolstering mutual ties with Ortho Development Corporation to develop globally marketable products and reinforcing systems in ways that fully reflect frontline medical needs and market data.
Manufacturing Framework
For medical devices, often the difference between life and death, safety is naturally a top priority. Reflecting this fact, manufacturers of pharmaceuticals and medical equipment are governed by a set of GMP guidelines to ensure proper manufacturing and quality control standards are maintained. Based on these guidelines, Japan MDM formulated its own set of stringent voluntary standards, and in July 2004 obtained the internationally recognized ISO13485 certification for its quality management system for medical devices. These actions embody Japan MDM's efforts to reliably maintain product quality.
From raw materials and processing to assembly, packaging and shipment, U.S.-based Ortho Development Corporation's plant (ISO13485 certified) utilize the latest equipment to rigorously manage quality at every stage. The result is a highly reliable manufacturing framework able to clear most tests and inspections with flying colors.
In its products, Japan MDM pursues a level of quality that meets or exceeds global standards. The goal here is to deliver products that are highly rated on all fronts and that fully meet needs worldwide.